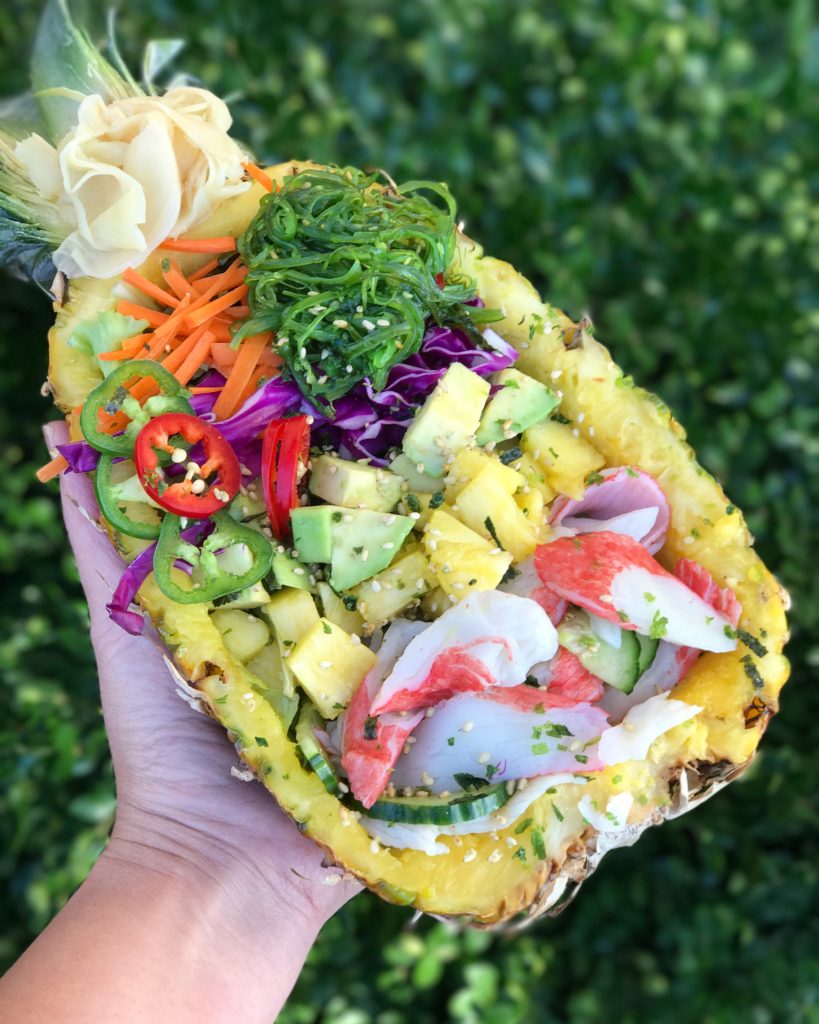 The blistering cold weather months are approaching fast in Chicago and all I can think about is going on a tropical vacation. Since I don't have any vacations planned in the near future, I decided to make my healthy Simply Surimi & Cucumber Sunomono Poke Bowl and daydream about being in paradise.
Simply Surimi is a new surimi seafood product made with natural ingredients using no GMOs, added phosphates, artificial colors or flavors. It's also certified gluten-free, sustainable by MSC, and heart healthy by the American Heart Association.
FAB TIP: Simply Surimi seafood is available on Amazon Fresh and at local grocery stores in Chicago here.
I used the Flake Style, which is made from Wild Alaska Pollock. The best part… it's already cooked and ready-to-eat so making a quick, healthy meal is easy. The resealable zipper bag makes it convenient to store.
On my recent trip to California, I went to several poke shops and was inspired to make my own. It's my go-to when I want a lighter meal. Here is my Simply Surimi & Cucumber Sunomono Poke Bowl…

Fab Recipe: Simply Surimi & Cucumber Sunomono Poke Bowl
Ingredients
For the Pineapple Bowl:
1 whole pineapple shell


For the Simply Surimi & Cucumber Sunomono:
1 cup Surimi Seafood (I used Simply Surimi, Flake Style)
1 large English cucumber or 2-3 Japanese cucumbers, sliced
¼ teaspoon salt
1 tablespoon rice vinegar
½ tablespoon of sugar or brown sugar
Soy sauce to taste
Sesame seeds for garnish


For the Poke Bowl:
Brown rice or mixed greens for base
½ cup pineapple, cubed
1 whole avocado, cubed
1 jalapeño or chile pepper, sliced
Scoop of seaweed salad
½ cup purple cabbage, chopped
½ cup carrots, julienned
Pickled ginger and Furikake for garnish
Instructions
Pineapple Bowl:
Cut the pineapple down the middle and through the crown.
Use a paring knife to cut around the edge of the pineapple, leaving a ½ inch rind.
Make horizontal slices, then vertical slices.
Use a spoon to scoop out the chunks and smooth out bowl.
Put in refrigerator to chill.
Simply Surimi & Cucumber Sunomono:
Cut the cucumbers into thin slices. Add salt and set aside for 10 minutes. FAB TIP: Salt will help draw out the moisture from the cucumbers.
Combine vinegar, sugar, and soy in a bowl and whisk until sugar dissolves.
Squeeze out the excess liquids from the cucumbers and add to vinegar mixture.
Add Simply Surimi and mix well.
Garnish with sesame seeds.
To Assemble:
Add base of choice (brown rice or mixed greens) to the bottom of the pineapple bowl.
Top with Simply Surimi & Cucumber Sunomono, pineapple, avocado, purple cabbage, carrots, seaweed salad, pickled ginger, and peppers.
Add Furikake (rice seasoning) and dressing of choice.
Enjoy!
It's #NationalSeafoodMonth so if you love the recipe, please share. What are some of your favorite toppings on a poke bowl? Let me know below.
Live the Fab Food Life,
Soo
Note: This post was sponsored by Trans-Ocean Simply Surimi. However, the views and opinions expressed herein are those of the writer.