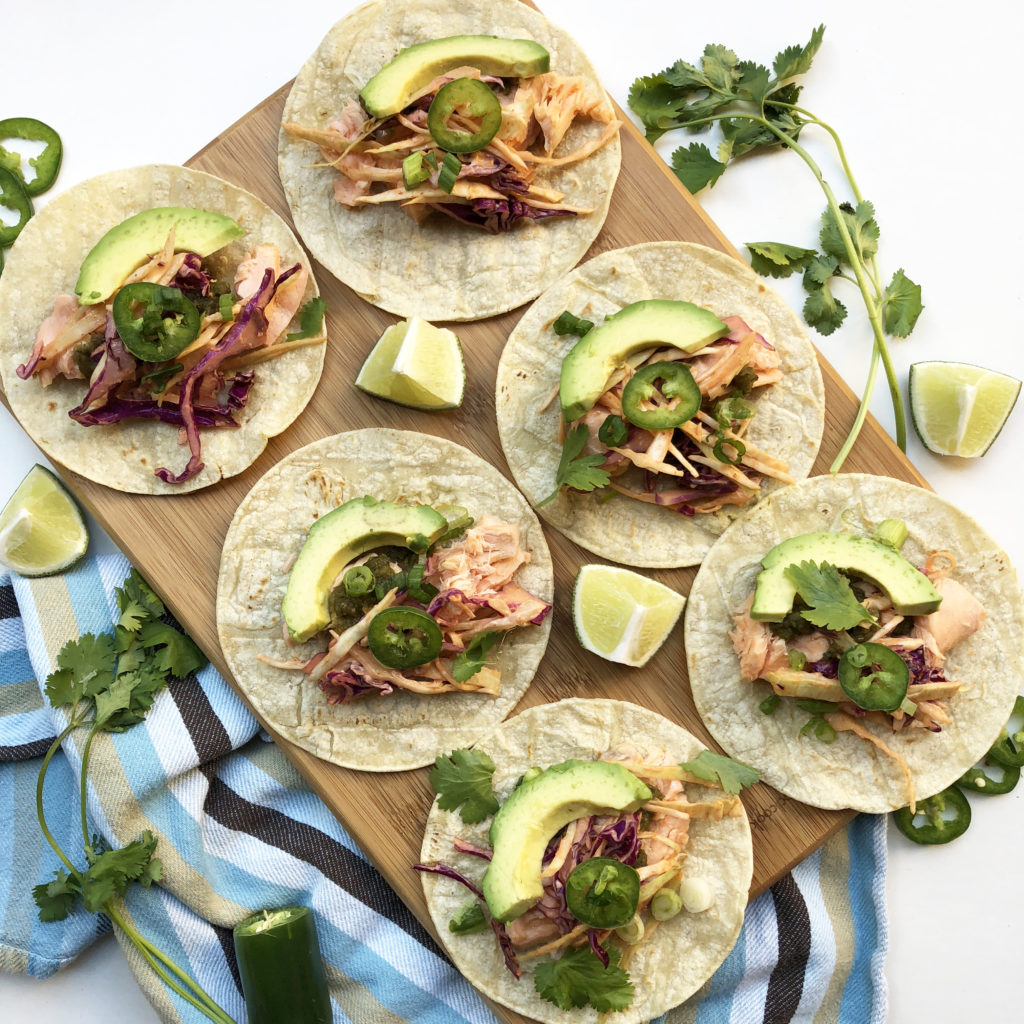 Life is hectic, I completely understand. Between taking care of my 7-month-old baby, planning for the holidays, and family & work commitments, I rarely have a night to cook dinner… let alone a healthy one. If you're in the same boat as me, I have the perfect meal solution for you.
I recently discovered The Saucy Fish Co., a U.K. based company, who makes preparing flavorful, healthy meals so effortless. Their product line includes carefully sourced fish paired with delectable sauces… YES, it comes with a packet of expertly crafted sauce!
I love the variety of flavor combinations like the salmon fillets with sticky maple sauce or tomato and chili chutney. I went with the salmon with lime and cilantro. See the full product line here.
It's already cooked and ready-to-eat so making a meal is quick and easy, especially on a weeknight. Last thing on my mind on a work night is spending hours in the kitchen. This recipe took only 15 minutes. What? Can you believe it?
I can't think of a better way to spend #TacoTuesday than with my guilt-free, easy Salmon Fish Tacos with Spicy Slaw. It's steamed not fried so you can feel good about what you're eating. Full recipe below:

Easy Salmon Fish Tacos with Spicy Slaw
Ingredients
For the spicy slaw:
1 cup cabbage, shredded
1 cup purple cabbage, shredded
2 tablespoons light mayonnaise
1 tablespoon Sriracha hot sauce
For the tacos:
2 packages The Saucy Fish Co. Salmon with Lime & Cilantro Sauce
6 corn tortillas
½ jalapeño, sliced
1 green onion, chopped
½ avocado, sliced
1 lime, cut into wedges to serve
cilantro, chopped for garnish
Instructions
For the slaw:
In a large bowl, combine the cabbage, purple cabbage, light mayonnaise and Sriracha hot sauce.
Mix well and set aside.
For the tacos:
Cut salmon fillets into bite-size pieces. Set aside. Remember it comes cooked and ready-to-eat so you can enjoy as is or warmed.
Warm tortillas in a cast iron skillet, over medium heat, for about 15 to 30 seconds over medium heat.
Top tortilla with pieces of salmon and lime and cilantro sauce. FAB TIP: The fish and sauce are perfectly paired so make sure to pour the sauce directly over the fish.
Add jalapeños, green onions, and avocado. I like adding the avocado at the end to maintain color and freshness.
Garnish with cilantro. FAB TIP: You don't need too much since there is cilantro in the sauce.
Check out my video here:
I'm telling you it doesn't get any easier than this… no cook, no mess, no fuss.
The Saucy Fish Co. can be found at a local grocery store near you here. Not all branches carry the full range so make sure to check with the individual stores.
Share my recipe and let's give them something to taco 'bout.
Live the Fab Food Life,
Soo
Note: This post was sponsored by The Saucy Fish Co. However, the views and opinions expressed herein are those of the writer.