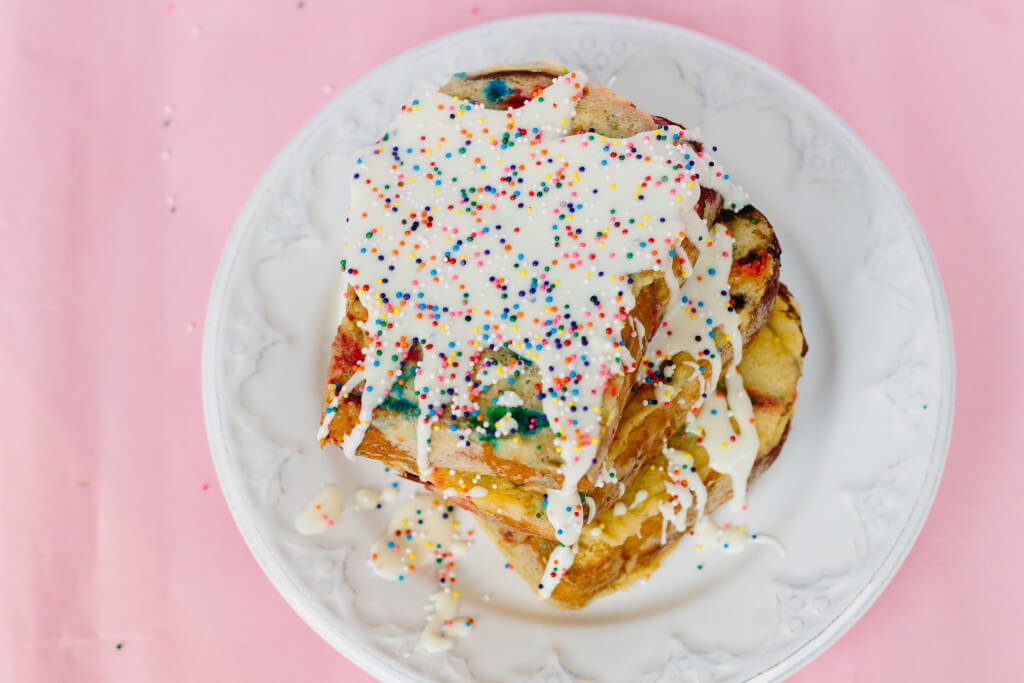 We're excited to share our very first blogger collaboration! From time to time, Fab Food Chicago will be highlighting a blogger or Instagrammer we love. We want to support people in the community who are just as obsessed as we are, about food and the art of food.
Meet blogger, Caitlin Lee aka Public Lives, Secret Recipes. I fell in love with her blog at first sight. It's the perfect mixture of all things delicious and fabulous. Plus, she's the nicest and cutest human being ever!
After secretly posting recipes of her delicious creations on her friends' Instagram, Caitlin decided to start a blog in October of 2014. Her blog features recipes from people in the public eye as well as her own creations. It's a great combination of two things, public lives and secret recipes. Did I mention she sells her homemade Krispops on the site? YES, please!
Caitlin likes to take simple recipes and add her own unique twist. When asked, she said she brainstorms most of her fun recipes at night. If you ever need a taste tester, you know where to find me. I'm already getting the late night munchies.
Public Lives, Secret Recipes has been featured on: Time Magazine, Cosmopolitan Magazine, Whitney Port, Bustle, BuzzFeed, Country Living Magazine, Food & Wine Magazine, and more.
You guys are in for a real treat. All I can say is Cake…Batter…French…Toast. It's an unique twist to French toast that can be eaten for breakfast and/or dessert. Check out the recipe below!

Fab Recipe: Cake Batter French Toast
Author:
Caitlin Lee from Public Lives, Secret Recipes
Ingredients
6 slices challah
1¼ cup dry funfetti cake mix
4 large eggs
½ cup whole milk
1 teaspoon vanilla extract
⅓ cup almond milk
1 can white frosting, melted
1 Tablespoon butter, for the skillet
Multicolored nonpareils
Instructions
Separate out your ingredients into wet and dry.


For the French Toast:

Cut up your bread into slices with medium thickness.
In large mixing bowl, combine eggs, milk, vanilla, almond milk, & cake mix. Stir until smooth.
Pour batter into a pan.
Dunk bread in mixture & flip until entire piece is covered.
Place butter in skillet over medium heat.
Once your bread is thoroughly coated on every side with batter, place the bread into the hot pan and let sit.
Add in one slice of bread at a time & flip after roughly 3 minutes or once bottom side has cooked thoroughly & is slightly yellow/golden.
Keep turning the bread so that both sides and all the edges are cooked.
After every side is cooked, take the french toast out of the pan and place on a plate to the side.
Keep coating bread in the pan until the batter runs out and cooking it in the pan.
For the Frosting:

Once you have your stack of french toast, heat frosting for 30 seconds in microwave - the frosting should be runny. FAB TIP: Make sure you take the frosting out of the original can and put it in a microwavable container.

Once you have your frosting ready, pour liberally all over your french toast.
Sprinkle your multicolored nonpareils on top.
Enjoy! You're done!
Huge thanks to Caitlin for sharing this delicious recipe with us! It was so heavenly and divine. What a perfect way to start to my day! Make sure to check out Public Lives, Secret Recipes for everything sugar and spice and everything nice. Follow Caitlin on Instagram, Pinterest, Facebook and Twitter.
Eat on!
-Chelsia