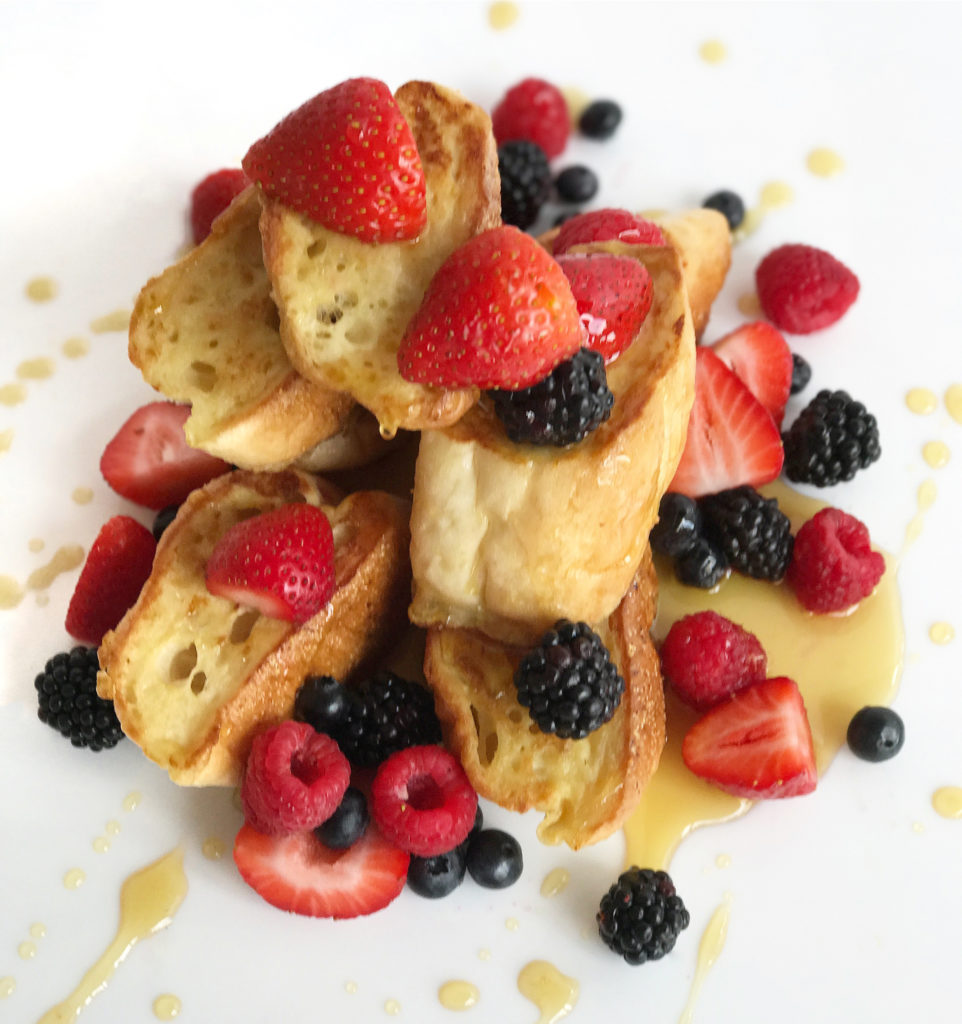 Breakfast is my favorite meal of the day. There's nothing like waking up to a hot, almond latte and a stack of banana pancakes or cheesy eggs or a breakfast taco or… I can go on and on. I have a slight obsession with breakfast food and can eat it any time of the day, especially French toast. 
How can you go wrong with buttery slices of bread, soaked in egg with crispy edges and pillowy center? I've never met a French toast I didn't like. It's all in the bread, though. Brioche and challah are typically used if you want a creamy texture. Pullman loaf is less dense but still a good choice. If you prefer a chewier consistency, go for the firmer French bread. Stay away from thin slices of bread for it will fall apart while cooking. I prefer somewhere in-between creamy and chewy so I went with Turano French rolls. It's shaped like French bread, but softer.
The Turano family has been baking high quality, artisan-style breads since 1962. You can taste the quality and care they put into every product. Their specialty breads and rolls are delivered fresh daily to local grocery stores throughout Chicago. It's also available across the U.S. through food distributors and chain restaurants.
You'll love my quick-and-easy Very Berry French Toast recipe. It combines sweet, savory, and a little tartness. It's great for sharing (or not)!
FAB TIP: Since the French rolls are on the softer side, I recommend slicing the bread about 1″ to 1.5″ thick. I slice it at an angle and get two good sized slices per roll. It's also great for stuffed French toast since typically the rolls are used for sandwiches.
Fab Recipe: Very Berry French Toast
Ingredients
2 eggs
½ cup of milk (I used coconut)
1 teaspoon vanilla extract
½ teaspoon cinnamon
2 tablespoons coconut oil (or butter)
7-8 thick cut slices of bread (I used Turano French roll)
½ cup strawberries, sliced
¼ cup blueberries
¼ cup raspberries
½ cup blackberries
maple syrup, for serving
Instructions
Whisk together the eggs, milk, vanilla extract, and cinnamon. Set aside.
Preheat skillet or griddle and melt coconut oil (or butter) in medium heat.
Dip the slices of bread in the egg mixture, coating both sides. FAB TIP: With this particular bread, don't soak it too long or it will turn out soggy.
Cook on both sides until golden brown.
Top with berries.
Serve with warm maple syrup.
Enjoy!
When I can't decide what fruit I want, I make a sampler.
What are some of your favorite French Toast recipes? Share with me below.
Live the Fab Food Life,
Soo
Note: This post was sponsored by Turano Baking Company. However, the views and opinions expressed herein are those of the writer.